Wednesday, May 24, 2017
Is Now The Time To Sell?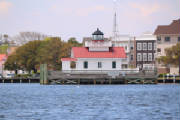 With the summer season coming, vacationers heading our way, and our Outer Banks region continuing to be rated amongst the best beaches in the US, many homeowners are asking, "Is now the time to sell?" According to Real Estate blogger Alina Ptazsynski with REDFIN, (www.redfin.com/blog) homes sold faster in April than in the last 7 years. With home inventory shrinking and demand rising, prices are also on the upswing. Nationally, 13% fewer homes are on the market than at this time last year with average time on the market also decreasing to 40 days, a 25% decrease in days on the market. All of this drove an increase of over 6% in median home sales prices nationally.
So how does this compare to the OBX real estate market? The Outer Banks Association of Realtors April MLS data* suggests the same trends apply to our market. Outer banks inventories were down 15% in April 2017, with days on the market averaging 50 days for homes listed in 2017. This lower inventory and faster moving market has also driven home prices up 4% since 2016. At Outer Banks Realty Solutions we've also seen interest pick up over the last few months as more people are showing interest in listings.
The data doesn't lie and suggests the market is on the upswing for sellers. Let our team at Outer Banks Realty Solutions help you take the next step in your journey. Our team provides decades of real estate experience and can provide a comprehensive home market analysis to help you get the best price for your home.
Whether you are buying or selling, Outer Banks Realty Solutions is the team to help you realize your dreams. Call us today at 252.261.9003.
*The information provided is from the Multiple listing service provided by The Outer Banks Association of REALTORS. All information provided Is deemed to be reliable, but not guaranteed
Aaron Snider is an associate broker with Outer Banks Realty Solutions in Manteo, NC. Aaron@obxrealtysolutions.com
9:53 am edt